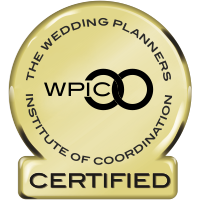 Certified by: Wedding Planners Institute of Canada


In today's fast-paced, social media influenced world, your greatest commodity is time. You have more than enough wedding information and choices available at your fingertips. What you need is an experienced Coordinator with the training, knowledge and know-how to guide you through the many choices that need to be made, without all the stress and expensive mistakes! A Certified Wedding Coordinator specializes in weddings; they know the industry, what to look for and what to avoid.

WPIC Certified Wedding Coordinators are held to higher standards then your "regular" planners. We take this Industry seriously, so seriously that we got trained and formally educated in Wedding Coordination. Graduates of The Wedding Planners Institute of Canada must abide by a code of ethics or they can be stripped of their Certification and disbarred from the WPICAlumni Association.